Like the current pop-cultural fascination with all things 70s, "Hypermnesiac Fabulations" dredged up stuff long since packed away. This group exhibition brought together the work of four young British artists (two of whom work collaboratively) and was underscored by a retro element, which can read as either timely or gimmicky depending upon how one views the polemical high/low cultural divide. For those marked in some way by this decade, "Hypermnesiac Fabulations" emphasized the mnemonic aspects of retro culture: longing or nostalgia for things reminiscent of one's formative years, be they actual or fictional, adolescent or infantile.
Although the work in this exhibition recycled pop-cultural referents, it was not characterized by a general sense of unease with the narratives called up through each artist's process; this was perhaps due to an overarching concern with autobiography. Hence the work signaled a move away from the appropriative strategies and ironic gestures that often accompanies work derived from popular culture. It was less expressly critical, though aligning to varying degrees with a type of punk or grunge sensibility said to characterize the British scene in general. This sensibility was most pronounced in Tracey Emin's self-professed anti-art tendencies, more subdued in the work of Georgina Starr or Jane and Louise Wilson. Performative elements integrated all three installations – these were surreal or oneiric in Starr and the Wilsons, mediumistic in Emin.
Most whimsical of the three installations, Georgina Starr's began with a series of cartooned story-boards that depicted scenarios concocted from various sexual relationships. Of these stories, one culminates in Starr's imaginary flight from a real, yet coincidental meeting of four Daniels last summer. Starr conjured up a singular protagonist that fused the character traits of all four (Ginger Dan, Earnest Dan, Rosy Dan and Dan Pussy) and provided the impetus for her video, So Long Babe (1996). This video projection featured Starr's mythological escape from the plague of the Daniels in which she flies around the streets of London in a pint-sized, red, kit-plane to Nancy Sinatra's 1967 tune, So Long Babe. Starr's freedom flight from love gone wrong reads like an updated version of Mary Tyler Moore's famous beret-tossing sequence: both act as gestures to a visionary life of the swinging, liberated woman of the modern metropolis. Humorous as Starr's story may be, the work flattens out after the initial cuteness of it all and seems less considered in its use of memory than some of her earlier projects such as Visit to a Small Planet (1995).
Less capricious, but equally theatrical are Jane and Louise Wilson's situational films that stage the aftermath of dystopic or horrific scenarios. Though unlike the Hollywood genres from which the Wilsons loosely work (horror and suspense thrillers), their filmic sequences suggest that one has arrived too late in the scheme of events: in a suspended loop after the climax, but before the end.
As identical twins, Jane and Louise Wilson have grounded their practice in terms of the dynamics of collaboration, fantasies of doubling, and popular lore surrounding twins. In Crawl Space 1995, one of the twins slowly disgorges a large, quivering bubble containing the other. It periodically hovers then maniacally soars about the hallways of a dilapidated mansion, only to be swallowed up once again by the same twin. At this point the words "crawl space" faintly emerge like a raised scar across her belly, signaling one twin's consumption (or impregnation) by the other. Crawl Space 1995 looks back to themes from The Exorcist, and Carrie (among others of the same genre) – horror films of the Wilsons' youth that personified dwellings as sinister, living entities.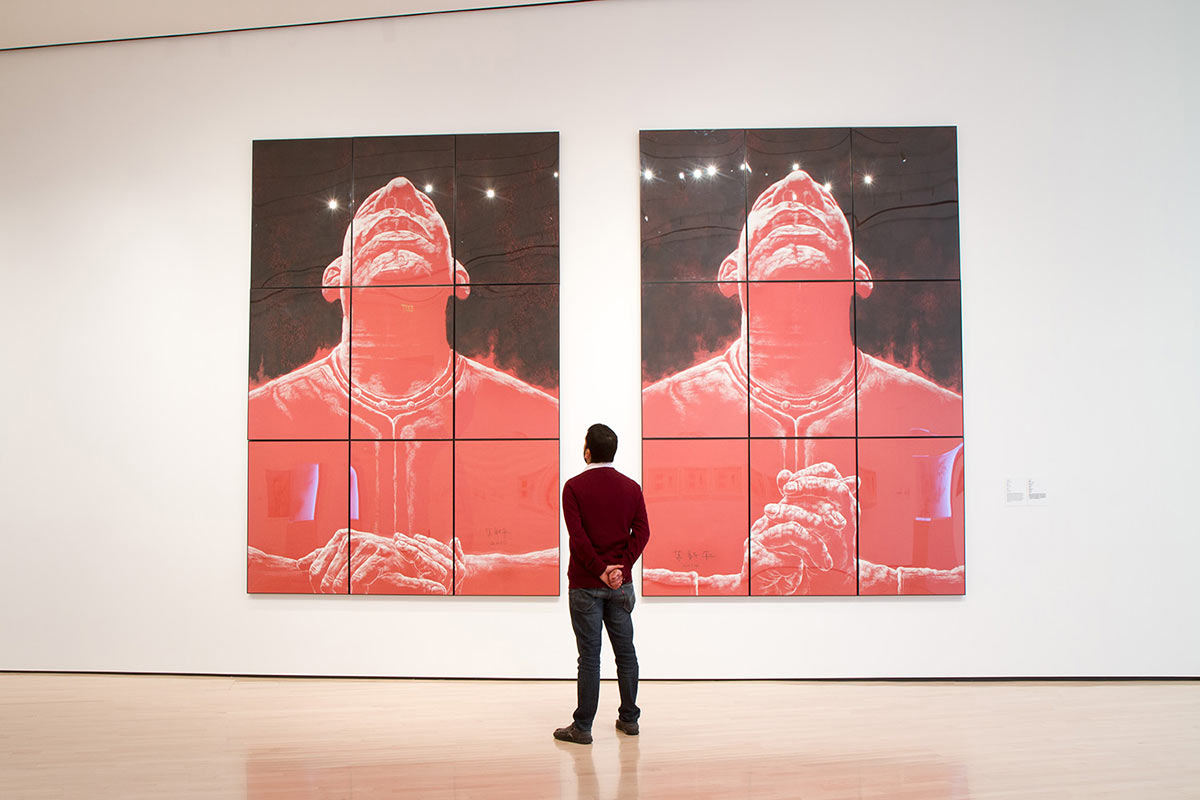 Unlike Starr and the Wilsons, Tracey Emin does very little to embellish or theatricalize her own production, nor does she need to; if Starr and the Wilsons insert themselves into Hollywood genres, Emin's peculiar gift for the narration of her own life has established her as a celebrity in her own right. Emin's rock-star ego was well established prior to her rise to relative art-world fame. In 1993, at the age of thirty, she stopped making art and hosted (in a Duchampian vein) her own solo exhibition, entitled My Major Retrospective which has since been exhibited in various forms at different institutions. The original, self-styled exhibition consisted of snapshots of her destroyed art-school paintings, personal diaries, letters, family snapshots and other memorabilia, all contextualized by Emin's quirky running commentary.
Most poignant of Emin's work, however, was a tape she made to commemorate the anniversary of her second abortion. In How it Feels (1996), Emin conducts a walk-about tour through the streets of London, from the doctor's office to the clinic, during which time she describes her particularly catastrophic abortion experience: a result of gross negligence, both on the part of the individual doctor and the larger state-run health care system. Emin meditates further on the narcissistic or controlling aspects of human reproduction while simultaneously suggesting the futility of mimetic processes:
After being pregnant and having a better understanding of conception, the essence of things and where they come from, it could hardly be justified trying to make some fucking picture. . . I saw that the way I had been making art had no value or reference to the world we live in. It had absolutely no use value whatsoever. So I stopped.
Though Emin's conclusions border on naive romanticism, How it Feels was by far the most explicitly politicized work in this exhibition. To some, Emin's confessional tendencies and frank anti-intellectualism might come on like a vulgar slap in the face, but her use of narrative offered an anchor in the real, which at the same time connected to the general anti-rational current that ran through all three installations. "Hypermnesiac Fabulations" paid homage to the seemingly inconsequential and shallow culture of the seventies, placing renewed faith in things as unpopular as narcissism, mysticism and occult fantasy.